President John F. Kennedy
Kathryn Kay's poem "Thanksgiving Prayer" was probably the poem which inspired President John F. Kennedy's most memorial words: "Ask not what your country can do for you, ask what you can do for your country." Here's the facts so you can judge for yourself.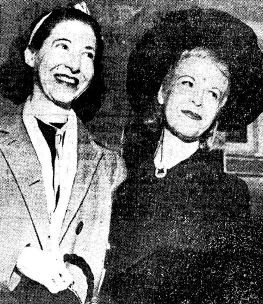 Kathryn Kay, left, with Mrs. Hobart Bosworth (Hollywood Citizen News, 28 Nov 1941)

"Thanksgiving Prayer" was published in Kay's book If the Shoe Fits in early November, 1941. She had a little store on Sunset and Vine located nearly across the street fom entrance of the NBC studios in Hollywood, so many movie stars came to buy custom-written poety for special occasions. The wife of a well-known movie star named Hobart Bosworth bought a copy of the book and really loved the poem "Thanksgiving Prayer," which emphasizes how grateful Americans are for their country.

The nation at that time was about to begin a sesquicentenniel celebration of the ratification of the Bill of Rights. Mrs. Bosworth was the Pacific Coast Chairman of the Citizen Education Service, which was promoting the celebration. She arranged to have her famous husband read the poem on Thanksgiving Day, Nov. 20, 1941, on the occasion of the 150th anniversary of the State of New Jersey's ratification of the Bill. His reading was broadcast on the radio across the country as part of the national celebration.

A week later, Mrs. Bosworth personally presented a gold-framed copy at the White House to Pres. and Mrs. Franklin D. Roosevelt. Eleanor Roosevelt had spearheaded a women's movement of improving the cultural arts and Kathryn officially dedicated the poem to her with "sincere appreciation of her example, which causes women of today to build for tomorrow." The accompanying photo was taken upon her return (click here for original newspaper article [190K]).

Mrs. Bosworth also arranged to have the poem cast on a large bronze plaque to be placed on Mt. Whitney, Calif., to be read at a Southern California Bill of Rights celebration. The date chosen for the celebration was Sunday, Dec. 7, 1941. The next day was to begin the official week long celebration of the Bill of Rights, as proclaimed by President Roosevelt. It would culminate on Dec. 15, 1941, the 150th anniversary of ratification by Virginia, the last state needed to make it part of the Constitution.

Early on the Sunday morning of the planned California celebration, Japan bombed the U.S. Naval base at Pearl Harbor, Hawaii. The ceremony was cancelled and the bronze plaque was melted down to make bullet casings.

A few years after the death of President John F. Kennedy, Kathryn received a phone call from Charles Siems, a profession lobbyist in Congress in Washington, D.C. He called her to tell her of the connection of her "Thanksgiving Prayer" to President Kennedy's famous challenge. Charles reported that President Kenneday had stated that his famous couplet was inspired by a poem he had heard many years earlier on a Thanksgiving program, and that it had "stuck with him." Of course, he did not remember the name of the poem nor the author, but only the impact of the idea burning into his soul.

The poem builds to a climax, and ends with the fervent prayer:
"God, help me make America as proud that I am hers—
as I am proud, and grateful she is mine!"
Charles pointed out to Kathryn that her poem almost certainly had to be the poem which inspired the president because it was heard across the country on Thanksgiving, and it emphasizes a very similar idea. Young John F. Kennedy had just graduated from Harvard at age 23 in June, 1940. At the time of the reading of "Thanksgiving Prayer" he was just at the impressionable age where he was beginning his career and was perhaps resolving to have America become as proud of him as he was of her. It is hard to estimate the impact on history that a single poem might have.
Thanksgiving Prayer

God, ev'ry year about this time,
according to routine,
I've bowed my head in the accepted way
and offered thanks, like some well synchronized machine
that prayed because it was the time to pray.
But, God, this year is different, this year I seem to feel
America's Thanksgiving is my own,
that in my nation's gratitude I have a part that's real,
a part that until now I've never known.
And, God, this year a deep humility has filled my heart,
a newborn pride rings true thruout my soul
because I do belong, because I have and am a part,
a tiny part of one tremendous whole.
I think I know the feeling of those first Americans
who said, "We must give thanks for this, our land."
I cherish now the rights that are each woman's, ev'ry man's,
the rights I've just begun to understand.
This year my heart has learned what all Thanksgiving Days are for,
true thankfulness at last I realize,
but, God, I'm sorry that it took the tragedy of war
in other lands to open up my eyes.
Again I bow my head but this time deep within me stirs
a mighty prayer, part of one vast design,
"God, help me make America as proud that I am hers—
as I am proud, and grateful she is mine!"